HiTech POS Billing, Inventory, Accounting Software with Payroll
---
User Profile
Full Version Only

User Profile - Bar code inventory control solution. for managing inventory in your stock room, warehouse or distribution center by tracking inventory as it is received, and dispatched. Accounting module is also included. - Free Business Software Download, Free Accounting Software Download, Download free trial of Financial Accounting and Business Management software for Billing, Industry, Business and services. Web based applications and software (Software that run in Browser) for business. Property Management Software, Hotel Software, Accounting Software for Hotels, Billing and Accounting Software for property management of Hotels, Restaurants, Motels, Guest Houses. Modules : Rooms, Visitors, Restaurant, Payroll, Accounts & Utilities. Free Trial Download.
Not Available in Compact Version of the software .
inusrpf.bmp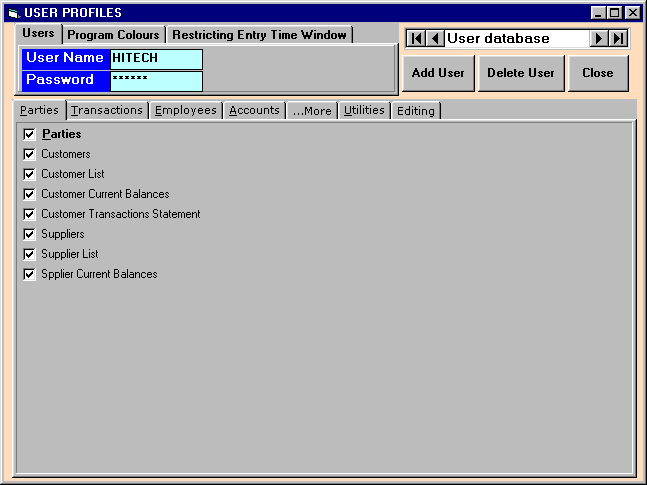 User Profile - Medical Supplier Inventory Control Software, Bar coding with HiTech Accounting and Inventory Software: Inventory Control - HiTech Pharmaceutical SSAM (Accounting Software for Medical Billing), Business Management and Accounting Software for pharmaceutical Dealers, Medical Stores. Modules :Customers, Suppliers, Products, Sales, Purchase, Accounts & Utilities. Free Trial Download. Hospital Supplier Accounting Software, Medical Shop Management Software, Billing, Invoicing, Inventory Control and Accounting Software for Medicine Dealers, Stockists, Medical Stores, hospital suppliers. Modules :Customers, Suppliers, Products, Sales, Purchase, Accounts & Utilities. Free Trial Download.
User Profile can be created and edited only by System Administrator. User Profile consists of user name, password, and entry time window for the user. Entry time window if enabled will not allow any transaction entry outside that time window for that user. This can be done to ensure regular entry by the operator. It will also stop modification of the old entries. All menu options can be enabled or disabled according to privilege of user. There can be only one system administrator for a company which is denoted by the check box marked System Administrator.
By entering User Profile system administrator can add new users and delete any user. At the time of opening the System Administrator enters his name and password then press command button
System Administrator,
User Profile window will be displayed. A check box is given named System Administrator, it should be ON for System Administrator and there must be one system administrator for each company. To add new user press command button
Add User
. All fields will become empty to enter new user name, password, time duration and menu options. The time duration can be enabled or disabled. To enable tick the check box
Entry time window enabled
. The user can access the software only for given time duration. Tick the appropriate menu options with the mouse for new user, he can access only these menu options. The user profile are only enabled when passwords for that company are enabled in
Set up open company
. The check box marked passwords should be enabled here.
To delete any user from User Profile first bring it in the profile by data control then press command button
Delete User
. User name and password will be deleted.
To close the User Profile press command button
Close
.
See the following topic also :
System Administrator and Password Security