HiTech POS Billing, Inventory, Accounting Software with Payroll
---
Supplier Transaction History
Supplier Transaction History, Supplier Buying Habits, , Supplier Module
trsth.bmp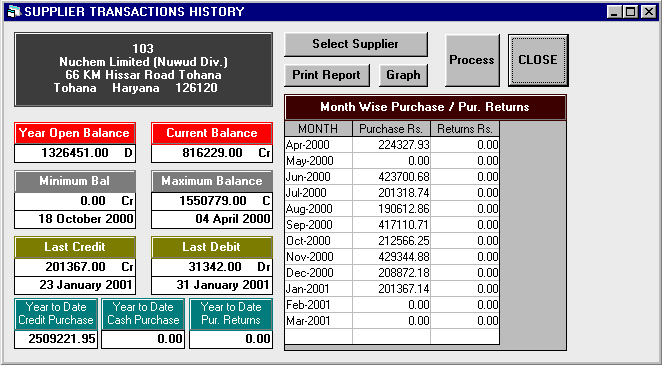 Supplier Transaction History;Supplier Buying Habits;;Supplier Module - Web, internet based accounting software and inventory control applications and web portals for e-commerce applications. Globally accessible application software for business management and promotion. - Inventory Systems, Inventory software, Accounting software, Project Management, Inventory control POS software with accounting and enterprise resource planning system for trade, business and industry. Order Processing, Billing; Inventory Labels with barcodes support; Barcode scanning software. Inventory Software, Barcode for Manufacturing with Accounting Software, Barcode inventory control software for user-friendly business inventory management. Includes accounting, billing, CRM and MIS reporting for complete business management.
Supplier Transaction History is the compiled report about supplier buying habits and other information. It displays name of the supplier and the following details from the ledger :
- Opening Balance of the supplier
- Current Balance as on current date
- Minimum Balance and Date
- Maximum Balance and Date
- Last Credit amount and date to the supplier
- Last Debit amount and date by the supplier
- Year to date Credit Purchase to the Supplier
- Year to date Cash Purchase to the Supplier
- Year to date Purchase Return by the Supplier
- Month wise Purchase and Purchase Returns by the supplier
- Graph of the Month wise Purchase / Returns
trsthg.bmp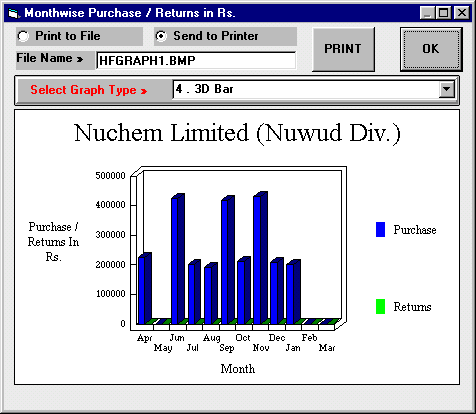 Supplier Transaction History;Supplier Buying Habits;;Supplier Module - HiTech Bar Code Solutions - Cost-effective bar code inventory management software for small to mid-sized businesses. We offer complete bar code inventory control and seamlessly integrated accounting module. - Free Business Software Download, Free Accounting Software Download, Download free trial of Financial Accounting and Business Management software for Billing, Industry, Business and services. Web based applications and software (Software that run in Browser) for business. Property Management Software, Hotel Software, Accounting Software for Hotels, Billing and Accounting Software for property management of Hotels, Restaurants, Motels, Guest Houses. Modules : Rooms, Visitors, Restaurant, Payroll, Accounts & Utilities. Free Trial Download.
To select any supplier press
Select Supplier
command button. List of suppliers will be displayed. Bring focus to the desired supplier name or click the name and then press
OK
on the supplier list. Once the opening balance is displayed you will be prompted whether further calculations are to be done. If answer is yes then rest of the figures are calculated. To find Month wise Purchase / Returns press
Find
command button. To display the graph of this press
Graph
command button.
To print the report press command button
Print.
A Dialogue box will be displayed after you confirm printing operation. If you answer no to
Do Fast Printing ?
dialogue during printing then the report will be printed using windows fonts. Answering Yes to this dialogue will print report in text mode. The graph will automatically be printed on the next page.