HiTech POS Billing, Inventory, Accounting Software with Payroll
---
Supplier Credit / Debit Note
Supplier Credit / Debit Note, Sales Module,
trrscdn.bmp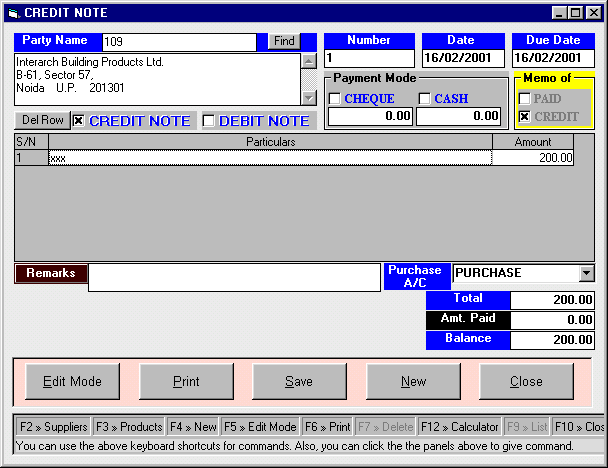 Supplier Credit / Debit Note;Sales Module; - Manufacturing Inventory Control Software, Accounting and Inventory Management Bar Code Tracking Software - Inventory Systems, Inventory software, Accounting software, Project Management, Inventory control POS software with accounting and enterprise resource planning system for trade, business and industry. Order Processing, Billing; Inventory Labels with barcodes support; Barcode scanning software. Inventory Software, Barcode for Manufacturing with Accounting Software, Barcode inventory control software for user-friendly business inventory management. Includes accounting, billing, CRM and MIS reporting for complete business management.
To credit or debit the supplier account the Supplier Credit / debit Note is parepared. To use Supplier Credit/debit Note select the option
Supplier Credit/Debit Note
under the menu option
Purchase
.
The appropriate memo number will be selected automatically. The window will have heading Credit/Debit Note. By default current date is selected. You can enter the desired date.
To select a supplier name in the memo is very easy. You can type supplier code or first part of the name of the supplier in the text box marked Party Name. The supplier name and address will appear in the memo when you press tab for making the next entry. If the code or name you typed here does not match with any of the suppliers then the supplier list will be automatically displayed. You can also press command button
Find
to display the
List of Supplier
You can select a name from this list easily. Press command button
OK
. The supplier name and address will appear in the memo. The memo due date will change accordingly if the Due Days are defined for that supplier in the supplier record. To do debit entry mark the check box
Debit
else to credit entry mark the check box
Credit
.
You can enter the particulers and amount in the table under given. To move to the next line for next entry press key board button
Enter.
To Delete any memo entry first bring that particular memo entry to focus in the grid by using tab and arrow keys or click it with the mouse in the grid. Once the memo is in the focus then press command button
Del Row
. The Total, Amount Paid and the Balance will be calculated and displayed.
Select the account from the drop down list box named
Purchase A/C
.
To make new memo click the button
New
on
Memo Command Button Group / Panel
. A message will be displayed to save current memo as " SAVE CURRENT MEMO ?", If you click
Yes
, it will be saved. The amount will be posted in the account and new memo window will be opened.
To print the memo please refer to :
Printing Using Hitech Print Engine