HiTech POS Billing, Inventory, Accounting Software with Payroll
---
Slow Moving Items
trslmi.bmp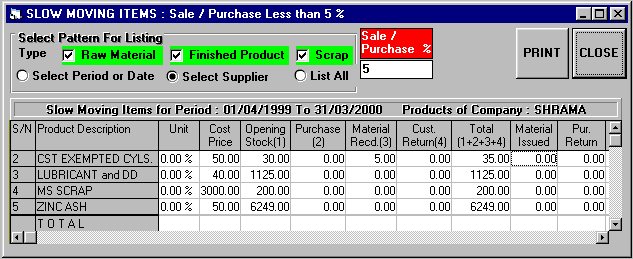 Slow Moving Items - Business Management and Accounting Software for Industry, Manufacturing units. Modules : Customers, Suppliers, Inventory Control, Sales, Purchase, Accounts & Utilities. Free Trial Download. - Inventory Systems, Inventory software, Accounting software, Project Management, Inventory control POS software with accounting and enterprise resource planning system for trade, business and industry. Order Processing, Billing; Inventory Labels with barcodes support; Barcode scanning software. Inventory Software, Barcode for Manufacturing with Accounting Software, Barcode inventory control software for user-friendly business inventory management. Includes accounting, billing, CRM and MIS reporting for complete business management.
To see the percentage of purchase with respect to the sales select the option
Stock Movement Analysis / Slow Moving Items
under the menu option
Inventory Control
. As it is selected a small window is displayed with different patterns for listing information. Its a report from inventory module of the program that calculates the opening and closing stock positions, Sales, Sales Returns, Purchase, Purchase Returns, cost price, sale value, material received, material received. Free given and Bad stock for any period which can be selected before preparing the report. It means Stock and sales statement can be prepared daily, weekly, monthly, yearly as per your choice.
First select the pattern according to the type of material, use the following options : click the check box
Raw Materials
if the type desired is raw materials, click the check box
Finished Product
if the type desired is finished product, click the check box
Scrap
if the type is scrap.
To prepare supplier wise listing click option button
Select Supplier Name
, press command button
Find
and select one of the supplier from the
Supplier Selection List
. Press command button
OK.
Any period can be selected for preparing the slow moving item report. To select period press option button
Select Period or Date
. Enter the two dates in the text boxes which will be displayed, to get help for entering period refer
Period Selection
. The products of particular supplier, if supplier name is selected, or all the products if List All is selected will be displayed.
Enter the percentage value of purchase with respect to sales, for example you entered 20%, it means you want to list the products whose purchase is 20% if sale is considered to be 100%.
To print the report refer :
Print Using Hitech Print Engine