HiTech POS Billing, Inventory, Accounting Software with Payroll
---
General Configuration
General Configuration, Sales Module,
trugc.bmp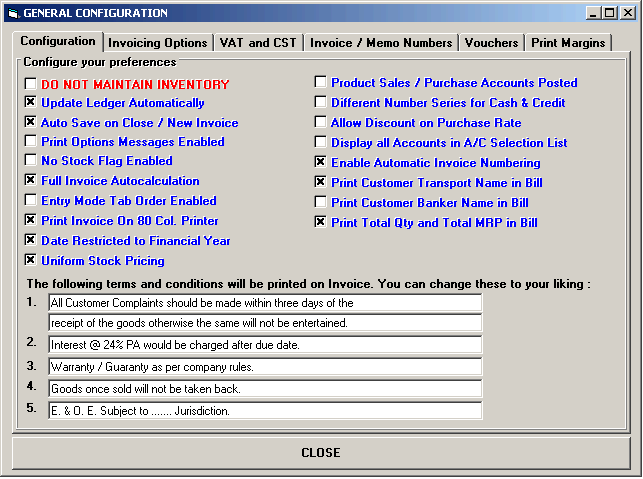 General Configuration;Sales Module; - Inventory Control Database, Barcode Scanner, Asset Tracking, Inventory Control, Accounting Software - Inventory Systems, Inventory software, Accounting software, Project Management, Inventory control POS software with accounting and enterprise resource planning system for trade, business and industry. Order Processing, Billing; Inventory Labels with barcodes support; Barcode scanning software. Inventory Software, Barcode for Manufacturing with Accounting Software, Barcode inventory control software for user-friendly business inventory management. Includes accounting, billing, CRM and MIS reporting for complete business management.
The invoicing and voucher entry can be customized by specifying the startup values for the following parameters. Each of the following parameter can be set using the check box. ( Some of these settings will not be applicable to invoices.)
2. Update Ledger Automatically
The ledger will be updated automatically as you make each invoice, memo or voucher for all the accounts which are affected by the transaction and the ledger is always upto date.
3. Auto Save on Close / New Invoice
All the invoices memos, vouchers etc. will be saved automatically. Save yes / no message will not be displayed.
4. Print Options Messages Enabled
If you select this option the print dialogue will be shown before printing where you can select number of copies etc. If this is disabled then printing will be done directly.
5. No Stock Flag Enabled
The no stock warning flag is enabled for sales and purchase return memos.
6. Do Invoice Auto Calculation
The calculations will be made in all the invoices, memos, vouchers etc. as you make each entry. So the calculations are complete as you complete one entry and move to next. If you Invoicing with large number of products in each invoice turn this option to off.
7. Entry Mode Tab Order Enabled
If you have to make large number of invoices or you want to save time during data entry by keyboard you can turn this option on. Normally it is off.
8. Print Invoices / Reports On 80 Col. Printer
Select this option if you are using an 80 column printer. The Invoice printing will be adjusted to fit in 80 col paper.
9. Date Restricted to Current Financial Year
The invoice date / memo date / voucher date entered must fall within the financial year selected. Date outside this period will flag an error.
10. Uniform Stock Pricing
When ever new stock is purchased then the value of the existing stock of those product does not change. When check this option then if any new stock is purchase with different purchase price then the purchase value of whole stock is changed to latest purchase price.
11. Product Sales/Purchase Accounts Posted
Hitech financial accounts has facilities for posting the sales of each product into its own sales or purchase account. If you (x)check this option then the sales of the product will be posted to there individual account as they are defined in the product record.
If you do not select this option then all sales and purchase will be posted to the sales purchase account as defined in the account setup.
12. Different Number Series For Cash And Credit
If you are using different numbers for cash and credit bill then check this option. If you do not check this option then even through the prefix of cash and credit number will be different they will have same numbering sequence.
13. Print Border Lines On Invoices / Memo
If you wish to print invoices with the border line then check this option box.
14. Print Standard Size Invoices
To print invoices / memos in standard size check this option button.
15. Fast Print Output of Invoices / Memo
If you wish to get print out in fast mode then to include this option check this option button.
Another heading is
Printing
. Different options related to printing are given under this heading. You can On or Off any options. To On any option click on square box to tick the option. It will be applied to your program.
Next heading is
Taxes.
Different names of taxes are defined in this section. To include the given taxes click on the name of tax or on square box.
Voucher Number Setup
You can also setup the starting numbers, consisting of a number and prefix where both are selectable for the four different types of vouchers : Payment, Receipt, Journal, Contra. You are free to choose prefix upto five letters as per your choice and it can be omitted if not required. You must give a starting number. The number which is stored will be the number of last voucher made. So the next voucher number will be the prefix as per the voucher type plus next number. If you want invoice numbers to start from 1 then set this number to 0.
To set the different options of Customize Printing of Sales Invoice / Case Memo press command button
Sales Bill Preferences
.
Invoice / Memo Number Setup


You can also setup the starting numbers, consisting of a number and prefix where both are selectable for all types of invoices / memos. Click the tab marked
Numbers
Under heading
Numbers
you can also setup the starting numbers, consisting of a number and prefix where both are selectable Invoice Number Setup can be done individually for following different categories of invoices :
1. Distribution Invoice ( The prefix is definable for all the individual companies separately. To perform auto setup press command button
Auto Setup
. The prefixes for invoice number will be set to first two letters of the company name and the starting number will be set to 1.)
To set the print margins press command button
set Print Margins
. You can set the Left, Right, Top and Bottom Margins.
trform45.bmp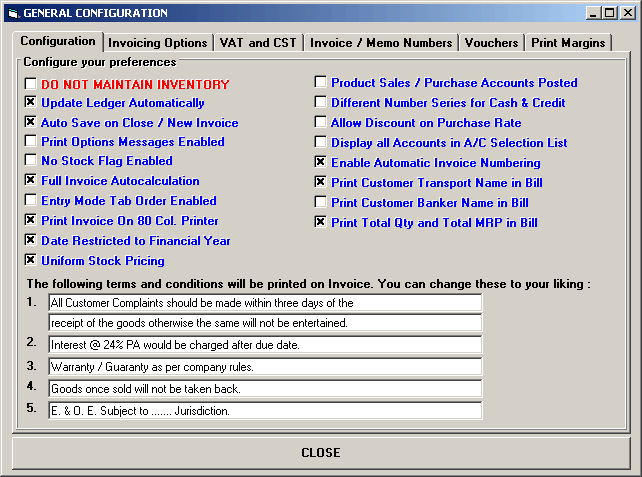 General Configuration;Sales Module; - Accounting Package, Free accounting, Company account Manager, solution for stock handling and billing management control, Barcode support inventory. No special barcode printer is required to print barcode. - Free Business Software Download, Free Accounting Software Download, Download free trial of Financial Accounting and Business Management software for Billing, Industry, Business and services. Web based applications and software (Software that run in Browser) for business. Property Management Software, Hotel Software, Accounting Software for Hotels, Billing and Accounting Software for property management of Hotels, Restaurants, Motels, Guest Houses. Modules : Rooms, Visitors, Restaurant, Payroll, Accounts & Utilities. Free Trial Download.
Many other options including the starting numbers for various memos and invoices etc. can also be set here. You can setup the various print options for invoices including the terms and conditions that you want to print at the end of invoice.