HiTech POS Billing, Inventory, Accounting Software with Payroll
---
Purchase Book : Displaying
Purchase Book : Displaying, Purchase Module
trrpbk.bmp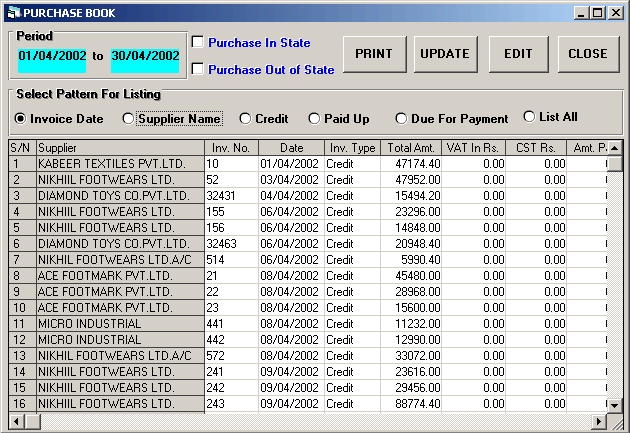 Purchase Book : Displaying; Purchase Module - Inventory Control Software Download, Billing, Invoicing Software, Inventory Control Software for your business - Inventory Systems, Inventory software, Accounting software, Project Management, Inventory control POS software with accounting and enterprise resource planning system for trade, business and industry. Order Processing, Billing; Inventory Labels with barcodes support; Barcode scanning software. Inventory Software, Barcode for Manufacturing with Accounting Software, Barcode inventory control software for user-friendly business inventory management. Includes accounting, billing, CRM and MIS reporting for complete business management.
Purchase book lists all types of purchases at one place. To display purchase book give Menu Command
Purchase Book.
Purchase book will be displayed. By default the purchase book is displayed for last one month. This period is displayed in the frame marked period.
Press the appropriate option button if you want to list purchase entries selected as per the criterion listed in patterns for listing. If you want to list all purchase entries press the command button
List All.
Any period can be selected for displaying purchase book entries of that period. To select period press option button
Invoice Date.
Enter the two dates in the text boxes which will be displayed. Press command button
OK.
All purchase entries for that period will be displayed in the list.
To see purchase entries pertaining to one particular supplier press option button
Supplier Name.
Enter the name of the supplier in the text box which will be displayed. To find the supplier from the list press
Find
command button. List of supplier will be displayed. Bring focus to the desired supplier name or click the name and then press
OK
on the supplier list. Supplier name will appear in the frame marked Give Supplier Name. Press
OK
here once again. Now only the purchase entries belonging to that supplier in the selected period will be displayed.
To see purchase entries which are paid up (those entries which are either cash transactions or the full recovery has been made and Net to Pay is zero ) press option button
Paid Up.
To see purchase entries which are not fully paid up (those entries which are either credit transactions and the full recovery has been not been made and Net to Pay is greater than zero ) press option button
Credit.
To see purchase entries which are due for payment (Due Date is less than the current system date) press option button
Due For Payment.
To see purchases in Out of State or In State tick suitable check boxes named
Purchase In State
and
Purchase Out of State
. Click again on any option given as List all to see the purchases of selected choice.
If you want to edit any purchase invoice then first bring that particular invoice to focus in the grid by using tab and arrow keys or click it with the mouse in the grid. Once the invoice is in focus then press command button
Edit.
That purchase invoice will be opened for edit. Edit the purchase invoice like you edit any other purchase invoice. When you close the edit window you will return to purchase book. Any changes which you made in the purchase invoice will not be reflected in the purchase book until you prepare the purchase book again by pressing the appropriate option button.
All purchase invoices when they are created are posted in the ledger automatically if the Post Ledger Automatically check box is checked in the invoicing preference setup. If any purchase invoices is not posted in the ledger (status : Open) it can be posted by pressing the command button
Update.
To print purchase book please refer to :
Print Using Hitech Print Engine