HiTech POS Billing, Inventory, Accounting Software with Payroll
---
Adding Rental Product Product
Adding Rental Product Record, Sales Module, , Product Rental Record
Full Version Only

Adding Rental Product Record;Sales Module;;Product Rental Record - Inventory control POS software with accounting and enterprise resource planning system for trade, business and industry. Order Processing, Billing; Inventory Labels with barcodes support; Barcode scanning software. - Free Business Software Download, Free Accounting Software Download, Download free trial of Financial Accounting and Business Management software for Billing, Industry, Business and services. Web based applications and software (Software that run in Browser) for business. Property Management Software, Hotel Software, Accounting Software for Hotels, Billing and Accounting Software for property management of Hotels, Restaurants, Motels, Guest Houses. Modules : Rooms, Visitors, Restaurant, Payroll, Accounts & Utilities. Free Trial Download.
Not Available in Compact Version of the software .
trlrtrec.bmp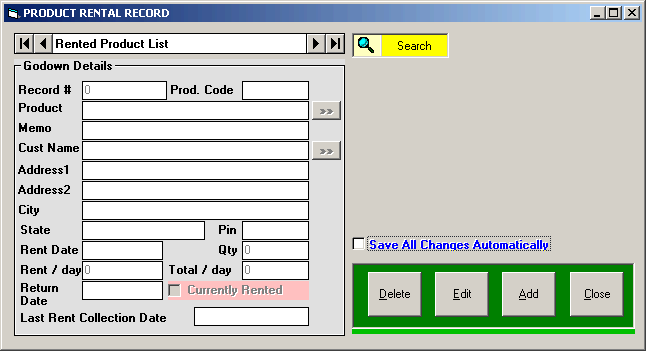 Adding Rental Product Record;Sales Module;;Product Rental Record - HiTech Bar Code and Accounting Software - Complete package - Standard Pricing Level - System Type: PC - Media Format: CD-ROM - Software Type: Accounting and Inventory Control, Commercial use. - HiTech Pharmaceutical SSAM (Accounting Software for Medical Billing), Business Management and Accounting Software for pharmaceutical Dealers, Medical Stores. Modules :Customers, Suppliers, Products, Sales, Purchase, Accounts & Utilities. Free Trial Download. Hospital Supplier Accounting Software, Medical Shop Management Software, Billing, Invoicing, Inventory Control and Accounting Software for Medicine Dealers, Stockists, Medical Stores, hospital suppliers. Modules :Customers, Suppliers, Products, Sales, Purchase, Accounts & Utilities. Free Trial Download.
To add product in Rental Product record give Menu Command
Rental Product / Product Rental Record
A window will be displayed for Rental Product Record Entry. The data fields or text boxes are bound to the
Data Control
linked to Rented Product information database. As you will click one of the four buttons on the data control you will see the text displayed in the bound text boxes change accordingly.
To add new rental product press command button
Add
on the
Data Command Button Group
.
The various data field of the product record will become empty so that you can enter a new rented product record. A new unique record# will be selected and be displayed in the Record# field. Record# should be unique and it must be given. Giving No Record# will not be allowed. However, Record# are optional to use, if you don't intend to use record# then let the computer decide the record# for you automatically.
Now you can start typing the appropriate information in the text boxes. To move from one text box / field to another use Tab and Shift Tab keys on the keyboard or use mouse.
To select rented product description a command button is given with the text box marked Product. Press this command button a List of Stock Items will be displayed, click on rented product then click on
Ok
command button or double click the selected product. Selected product's description and code will come in Rented Product Record.
The Customer of rented product can be entered in text box marked Name or To select Customer Name from the list press command button given with text box of Name, the
List of Customers
will be displayed. You can select a name from this list easily. Various details about customers will come automatically in Product Rented Record.
Various other details about the Rented Product like Rent date, Rent / PM, Qty. and Return date can be entered here. The Total / PM will be calculated automatically. The Rent Date and Rent/pm must be entered. When rented product record entered the check box of
Currently Rented
becomes ticked. When the product is returned this check box becomes off. Last Rent Collection Date comes automatically, it is the last date of the current month.
When you have finished entering the record then you have to press command button
Update
, then you can enter another record or do something else. To save your record automatically Tick check box
Save All Changes Automatically.
If you have not done so you will get following messages : "Commit Changes?". If you want to save the record then answer Yes to the above message.
To add another rental record press command button
Add
. To close rented product record press command button
Close.
Please also see the related topics :
Finding Rental Product Information
Editing Rental Product Record
Deleting Rental Product Record