HiTech POS Billing, Inventory, Accounting Software with Payroll
---
Adding New Product
How To Add New Product, New Product, Product Module, Product Record
trprec.bmp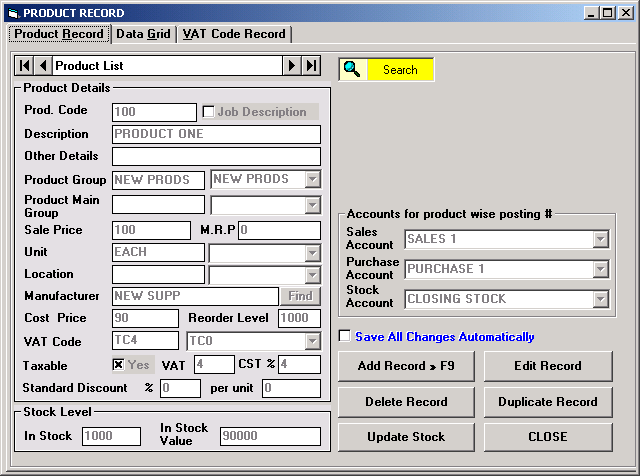 How to Add New Product; New Product;Product Module;Product Record - Web, internet based accounting software and inventory control applications and web portals for e-commerce applications. Globally accessible application software for business management and promotion. - Inventory Systems, Inventory software, Accounting software, Project Management, Inventory control POS software with accounting and enterprise resource planning system for trade, business and industry. Order Processing, Billing; Inventory Labels with barcodes support; Barcode scanning software. Inventory Software, Barcode for Manufacturing with Accounting Software, Barcode inventory control software for user-friendly business inventory management. Includes accounting, billing, CRM and MIS reporting for complete business management.
To add new product give Menu Command
Product Record.
A window will be displayed for Product Record Entry. The various details about the product like Code, Description, Product Group, Sale Price, Unit, Location, Manufacturer, Cost Price, Reorder Level, Taxable, VAT %, CST %, Standard Discount can be entered in the text boxes which are labelled accordingly. You can enter here In Stock Quantity, the stock Value wil be calculated automatically.
These data fields or text boxes bound to the
Data Control
linked to product information database. As you will click one of the four buttons on the data control you will see the text displayed in the bound text boxes change accordingly.
To add new product press command button
Add Record.
The various data field of the product record will become empty so that you can enter a new record. A new unique code will be selected and be displayed in the Code field. Code should be unique and it must be given. Giving No code will not be allowed. However, codes are optional to use, if you don't intend to use codes then let the computer decide the codes for you automatically.
Now you can start typing the appropriate information in the text boxes. To move from one text box / field to another use Tab and Shift Tab keys on the keyboard or use mouse.
The name should be unique. No two same names of the products are allowed because the name will be used to open ledger account of the product and all account names should be unique. The products may be categorised under a Group, The Group of product can be selected by the given drop down list or if it does not exist in the list, you can enter name of the Group in text box, it will be added in the Group List. The next few lines are for entering the address. A long address can be given in two address lines. Enter city in the text box labelled City and Pin Code in the box labelled Pin Code.
The Supplier of each product should be entered along with other information like cost price, the price at which the goods are bought; sales prices and MRP. To enter Supplier Name type the first few distinguishing letters of the name of the Supplier in the empty text box and the rest of the name will come automatically or press command button
Find
to display the
List of Suppliers
. You can select a name from this list easily.
Various other details about the product like various taxes on it along with its current stock position. Stock value will be calculated at the cost price.
If you want to enter the sales account and purchase account seperately in product record select the appropriate Drop Down Combo button
Sales A/C
or
Purchase A/C
respectively and select the name from the list.
When you have finished entering the record then you can enter another record or do something else. To save your record automatically Tick check box
Save All Changes Automatically.
If you have not done so you will get following messages : "Commit Changes?". If you want to save the record then answer Yes to the above message.
To add another record press command button
Add Record.
To close product record press command button
Close.

Tax Code Record
Trprec_tc.bmp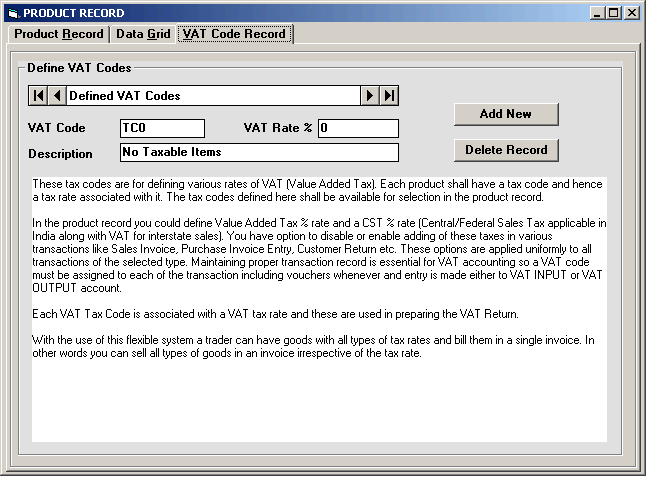 How to Add New Product; New Product;Product Module;Product Record - Inventory Control Software For Catering Industry, Needing real time inventory control system or barcode tracking systems? Need a robust inventory control system or warehouse control system? Need accounting solution? Visit us now - Free Business Software Download, Free Accounting Software Download, Download free trial of Financial Accounting and Business Management software for Billing, Industry, Business and services. Web based applications and software (Software that run in Browser) for business. Property Management Software, Hotel Software, Accounting Software for Hotels, Billing and Accounting Software for property management of Hotels, Restaurants, Motels, Guest Houses. Modules : Rooms, Visitors, Restaurant, Payroll, Accounts & Utilities. Free Trial Download.
VAT or Value Added Tax Codes are used in VAT return and Invoices, memos etc. to associate a tax rate with a code. This tax percent is then used in calculations. This VAT code is also indicated in various vouchers where VAT Input or VAT Output is entered to indicate the % of tax charged. The VAT return indicates the VAT percent and the associated VAT code for summary and also for details of all transactions dealing with VAT input or VAT Output accounts.
Some standard VAT code may be defined in data. You could either edit or delete the existing tax codes or create new ones. To Add anew record press the command button marked
Add New
, the fields will become blank so that you can enter new record, after entering the data press command button marked
Save
. To delete a record press command button marked
Delete
. To edit a record just type new values and then scroll the data control to a new record so that the changes are saved.
These tax codes are for defining various rates of VAT (Value Added Tax). Each product shall have a tax code and hence a tax rate associated with it. The tax codes defined here shall be available for selection in the product record.
In the product record you could define Value Added Tax % rate and a CST % rate (Central/Federal Sales Tax applicable in India along with VAT for interstate sales). You have option to disable or enable adding of these taxes in various transactions like Sales Invoice, Purchase Invoice Entry, Customer Return etc. These options are applied uniformly to all transactions of the selected type. Maintaining proper transaction record is essential for VAT accounting so a VAT code must be assigned to each of the transaction including vouchers whenever and entry is made either to VAT INPUT or VAT OUTPUT account.
Each VAT Tax Code is associated with a VAT tax rate and these are used in preparing the VAT Return.
With the use of this flexible system a trader can have goods with all types of tax rates and bill them in a single invoice. In other words you can sell all types of goods in an invoice irrespective of the tax rate.