HiTech POS Billing, Inventory, Accounting Software with Payroll
---
Adding New Customer
How To Add New Customer, New Customer, Customer Module, Customer Record
trcrec.bmp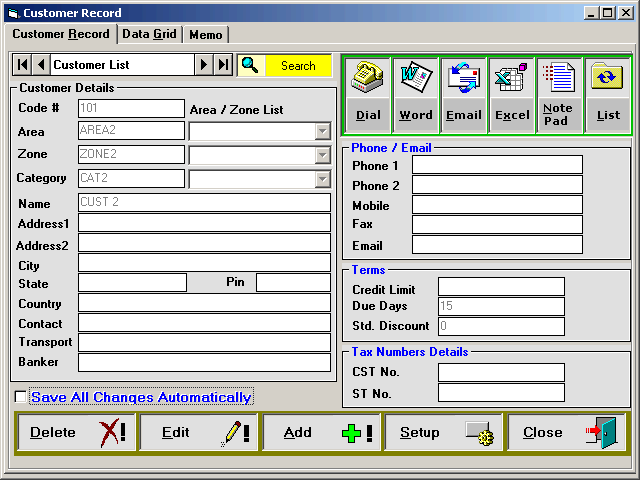 How to Add New Customer; New Customer;Customer Module;Customer Record - Inventory Control Demo Download. Barcode Software - Accounting Software - Inventory Control , Billing Software for various user segments in business, trade and industry. - Inventory Systems, Inventory software, Accounting software, Project Management, Inventory control POS software with accounting and enterprise resource planning system for trade, business and industry. Order Processing, Billing; Inventory Labels with barcodes support; Barcode scanning software. Inventory Software, Barcode for Manufacturing with Accounting Software, Barcode inventory control software for user-friendly business inventory management. Includes accounting, billing, CRM and MIS reporting for complete business management.
To add new customer give Menu Command
Customer Record.
A window will be displayed for Customer Record Entry. The various details about the customer as Code, Area, Zone, Category, Name, Address, City, State, Contact, Phones and Fax can be typed in the text boxes which are labeled accordingly. You can also give Terms for that customer as Credit Limit & Due Days and Tax Details like CST NO. & VAT NO. in the given text boxes. These data fields or text boxes are bound to the
Data Control
linked to customer information database. As you will click one of the four buttons on the data control you will see the text displayed in the bound text boxes change accordingly.
To add new customer press command button
Add
on the
Data Command Button Group
. The various data field of the customer record will become empty so that you can enter a new record and heading of this command button will be changed as
Update
. A new unique code will be selected and be displayed in the Code field. Code should be unique and it must be given. Giving No code will not be allowed. However, codes are optional to use, if you don't intend to use codes then let the computer generate the codes for you automatically.
Now you can start typing the appropriate information in the text boxes. To move from one text box / field to another use Tab and Shift Tab keys help you to move upward direction on the keyboard or use mouse.
All customers can be categorized under some area. To define new area enter the Customer Area in the text box marked area and move to next field. If it does not already exist in the area list then it will be added to the Area list. To select one of the defined areas click the Area List and select the appropriate area by clicking it on the list. Many areas can make up a zone. This classification is useful for if the customer base is quite large and the information about customers in different areas and zones has to be compiled. To define new zone enter the Customer Zone in the text box marked Zone and move to next field. If it does not already exist in the zone list then it will be added to the Zone list. To select one of the defined zones click the Zone List and select the appropriate zone by clicking it on the list.
The Category of customer can be given in the text box of Category. To define new category enter the Customer Category in the text box marked Category and move to next field. If it does not already exist in the Category list then it will be added to the category list. To select one of the defined categories click the Category List and select the appropriate category by clicking it on the list.
The name should be unique. No two same names of the customers are allowed because the name will be used to open ledger account of the customer and all account names should be unique. If the customer name which you entered now already exists either in customer record or supplier record or exists as account head a message will be displayed. Change the names to unique / different names if they do not correspond to the same party. The next few lines are for entering the address. A long address can be given in two address lines. Enter city in the text box labeled City and Pin Code in the box labeled Pin Code.
Various other details about the customer like CST No. / VAT No. can be given. Credit Limit is the maximum credit allowed to the customer and Due Days are the number of days which are allowed to the customer for payment of credit bills. This information is required for invoicing.
When you have finished entering the record then press command button
Update
. A message will be displayed " Do You Want to Save The Current Record ?", press
Yes
to save the entered record or press
No
to abort. you can enter another record or do something else. To save your record automatically Tick check box
Save All Changes Automatically.
To add another record again press command button
Add
and follow the above steps. To close customer record press command button
Close.
An attempt to close the customer record or to move to new record when the text boxes are all empty (null values) will not be allowed. All the other controls are grayed (disabled) while you actually have the record open for edit or add new.
To set up customer account heads press command button marked
Setup
The customer A/C Type will be Asset and the control account will be set to SUNDRY DEBTORS. Account code will remain same as the customer codes wherever possible. If the customer code already exists in Accounts Setup then a new account code will be selected.
hcommunic.bmp

How to Add New Customer; New Customer;Customer Module;Customer Record - HiTech Computer Services offers complete barcode inventory solutions. Specializes in off-the-shelf systems for traders, industries, hotels, hospitals, petrol pumps, automobile dealers, newspapers, commodity brokers etc. - Free Business Software Download, Free Accounting Software Download, Download free trial of Financial Accounting and Business Management software for Billing, Industry, Business and services. Web based applications and software (Software that run in Browser) for business. Property Management Software, Hotel Software, Accounting Software for Hotels, Billing and Accounting Software for property management of Hotels, Restaurants, Motels, Guest Houses. Modules : Rooms, Visitors, Restaurant, Payroll, Accounts & Utilities. Free Trial Download.
The contact information of the customer can be accessed using this control. This control enables you to use various standard interface in Windows OS and MS Office program namely Telephone Dialer, MS Word, Email, Excel and Notepad.
The file you export in Email, Word, Excel or Notepad are associated with the name of the customer and date. Once the file is saved it can be re-accessed by displaying the list. The files can also be deleted from the list. This control is very useful for Creating, Filing and tracing the correspondence with each of your customer, Supplier or Employee.